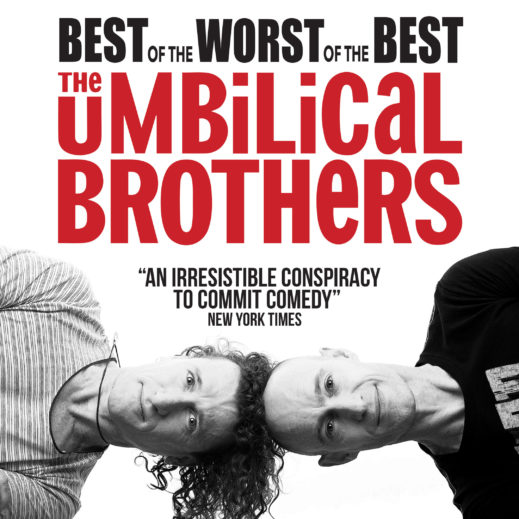 The Umbilical Brothers
Best of the Worst of the Best
Billettpris
Kr. 400,- (+avg.)
Spilletid
ca 1 t 30 min
Scene
Hovedscene
OM FORESTILLINGEN
The Umbilical Brothers are an international comedy phenomenon, fusing amazing vocal and physical abilities with a mix of theatre, slapstick and stand-up inside a world where all their rules are broken.
Named as two of Entertainment Weekly's "100 Most Creative People In Entertainment," David Collins and Shane Dundas have appeared on Letterman, the Tonight Show, and The Late Show with Stephen Colbert. They performed after James Brown at Woodstock '99, and before the Queen of England. Their unique mix of physical and vocal comedy has taken them to stadiums supporting Robin Williams, and brought comedy audiences into the Sydney Opera House.
The boys have gigged in 38 countries, including a year-long off-Broadway run where they received a New York Drama Desk nomination. In Australia, they were awarded the Helpmann Award (Australia's Tony) for Comedy Performance of the Year. Their headlining Edinburgh Fringe shows grabbed them the Edinburgh Critics' Choice Award. Younger fans, parents of younger fans and stoners may know them from their brilliant TV series The Upside Down Show, which they created with Sesame Workshop and won them an Emmy and a Logie (Australian Emmy).
And now they're heading to Norway for your amusement and amazement. Experience them live, and wonder how anyone can do this for a living.
"SUBLIME COMEDY" New York Times
"MARCEL MARCEAU ON REALLY GOOD DRUGS" Sydney Morning Herald
"DAZZLINGLY ACCURATE, SCORCHINGLY PHYSICAL, SCREAMINGLY FUNNY" The Observer (UK)
18
Ungdommer under 18 år er hjertelig velkommen i følge med en forelder